21st Anniversary of the Phenomenon - Mass in Damascus - Presence of Apostolic Nuncio; Archbishop Diego Causero at Saint-Paul's church for the Latins.

Les célébrations du 21ème anniversaire du Phénomène - Messe à Damas - En présence du Nonce Apostolique, Mgr Diego Causero en l'église Saint-Paul pour les Latins.
21st Anniversary celebrations of the Phenomenon will take place in Montreal (Qc, Canada) on November 26th, 7pm at Notre-Dame-des-Anges Church - 5621 Gouin West blvd; near Sacred-Heart Hospital. Programme: Chaplet followed by Mass then anniversary celebrations in the basement of the church.
Les célébrations du 21ème anniversaire du Phénomène auront lieu à Montréal (Qc - Canada) le 26 novembre à 7pm en l'église Notre-Dame-des-Anges - 5621 Boul. Gouin Ouest; près de l'hopital du Sacré-Coeur. Programme: Un Chapelet suivi d'une Messe ensuite des célébrations au sous-sol de l'église.

Retraite et Pèlerinage sur la tombe de Saint Charbel, au Liban
Sur les pas de saint Paul à Damas, Syrie
Avec la Vierge Marie chez Myrna - du 10 au 24 novembre 2003
*** A partir du CANADA seulement ***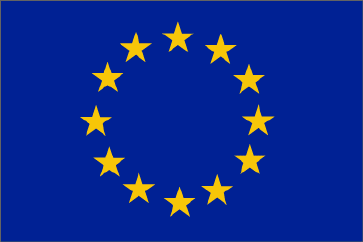 Myrna in Europa
vom Samstag 30. August bis 11. September 2003

Bei den Gebets- und Meditationsstunden mit Myrna gab es in den meisten Fällen erst eine heilige Messe.
Es folgten dann eine theologische Einführung von Prof. Dr. Adel Theodor Khoury, dann eine Vortrag von Myrna, den Prof. Khoury übersetzte.
Samstag, 31. August 2003: Benfeld / Strasbourg (Frankreich).
Dienstag, 2. September 2003: Mainz (Deutschland ).
Mittwoch, 3. September: Altenberge (Deutschland).
Freitag, 5. September: Dürmentingen / Riedlingen (Deutschland).
Samstag, 6. September: Einsiedeln (Schweiz).
Sonntag, 7. September: Lauterbach / Bregenz (Österreich).
Montag, 8. September: Linz (Österreich).
Dienstag, 9. September: Sankt Veith / Vogau (Österreich).
---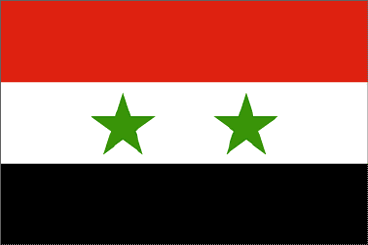 MYRNA'S TESTIMONIAL - AUDIO ONLY - 20 MIN


SUMMARY OF THE MASS - VIDEO - 58 MIN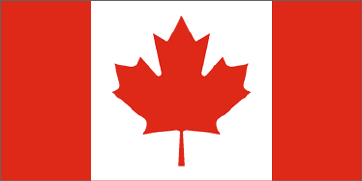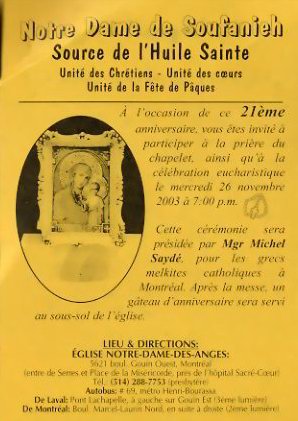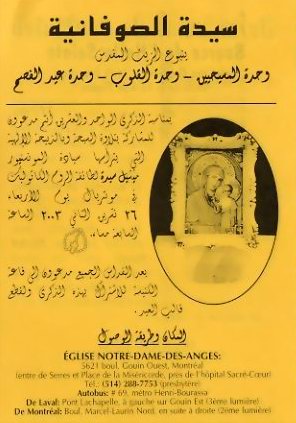 26-NOV 2003 - MONTRÉAL - PHOTO ALBUM


NOV 2003 - MONTRÉAL - INVITATION DE MGR MICHEL SAYDÉ EN ARABE

NOV 2003 - MONTRÉAL - INVITATION DE MGR MICHEL SAYDÉ EN FRANCAIS


26-NOV 2003 - MONTRÉAL - HOMÉLIE DE MGR MICHEL SAYDÉ EN ARABE

26-NOV 2003 - MONTRÉAL - HOMÉLIE DU PERE PIERRE JANHO, OP, EN FRANCAIS